Create a beautiful centerpiece of whole fruit and vegetables for the holidays.
Don't waste your money on flowers that quickly wilt! Try something different this year. Buy fruit and vegetables (or use your garden produce!) and turn them into a centerpiece.
Fresh fruit and vegetables are beautiful and fragrant. Plus, they last much longer than flowers.
After dinner, you can donate the entire centerpiece to a local food pantry. Turn your centerpiece into nutritious food for the less fortunate in your community.
Get inspired with DIY instructions from The Prudent Garden.
Think this is a good idea? Please consider making a tax deductible donation to AmpleHarvest.org. We appreciate your support!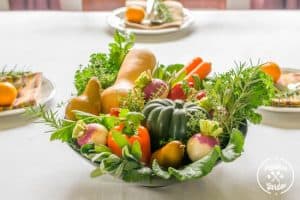 Instead of a floral arrangement in the center of your special dinner, use a whole fruit edible arrangement. Then share the leftover fruit with a local food pantry! Your food can bless two tables.