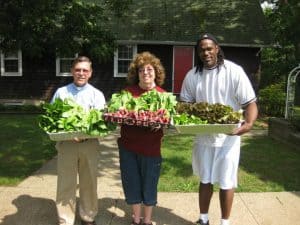 AmpleHarvest.org is an award winning hunger/food waste nonprofit solving hunger and the waste of food by connecting America's 62 million home/community gardeners with 8,000 local food pantries (see the map here).  A hyper-local community-based program working on a nationwide basis, it leverages both the pent up supply of surplus fresh food and the passion of the growers' goodwill.
This solution is tech-based, cost-efficient, and free for gardeners and food pantries.  It incurs none of the traditional overhead of buying food, nor the logistics of refrigerating, storing or distributing it as the gardeners grow, harvest and transport the food themselves.  The resulting ROI is unmatched by any other program.
AmpleHarvest.org In Indian Country takes this already proven model and adapts it to address the distinct circumstances found in Indian Country.  This includes a unique food pantry model, lack of traditional street addresses or zip codes or limited Internet access in some communities, while also respecting National sovereignty. A helpful .pdf slide deck called Why Indian Country explains why this program was created.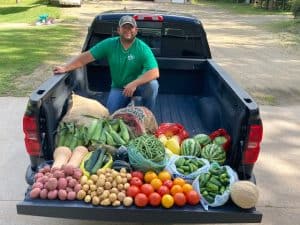 The rollout started in late 2022 heavily reliant on partnerships with Tribal leaders, online influencers, targeted social media, editorial and paid content in media outlets.  It also enlisted the Master Gardener Network and other partners that can help spread awareness.
Learn more about the program at www.AmpleHarvest.org/AHiIC, the FAQ page, or download a flier for your food pantry www.AmpleHarvest.org/ICPantryFlier. Click here to see a 4 minute video message from our founder, directed to Tribal Elders.
Can you help us help your community?  Do you need more information?  Please let us know here.
If you are a food pantry manager and want gardeners on your reservation to find and then donate their surplus harvests, register your food pantry here.  Remember… its totally free.
We are deeply grateful to the many Tribal Elders and Native American food/hunger thought leaders from numerous Nations across America, who are helping to shape AmpleHarvest.org In Indian Country.  This program could not be assembled or rolled out without their leadership, guidance and encouragement.  We also which to acknowledge support of Bonnie Plants and Google that helped to underwrite this program.
         Thank you