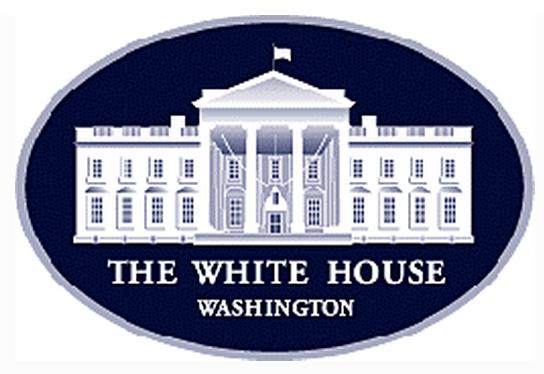 Read about AmpleHarvest.org on the White House web site.
---
Food For Thought Everything a reporter needs to do a thorough story on AmpleHarvest.org is located on this page. According to government statistics, more than 50 million Americans are food insecure.

A National Gardening Association study reports that more than 42 million Americans grow vegetables, fruit and herbs.

AmpleHarvest.org is a nationwide campaign to diminish hunger in America by enabling these backyard gardeners to share their excess garden bounty with a local food panty.

7,544 food pantries are now registered on AmpleHarvest.org.

Your support of AmpleHarvest.org helps many more food pantries receive fresh produce - improving community health while also helping the environment.
AmpleHarvest.org at a Glance There is a lot more to AmpleHarvest.org than meets the eye. It enables hungry people to get food. It enables malnourished people to get healthier food. It improves the environment. It helps build communities. It supports local food sourcing.
And it does it all without costing a dime.
Learn More Below










Press and Media Information
Proper Use of Name
Please note the proper use of the name for the campaign is either "
AmpleHarvest.org"
or "
AmpleHarvest.org Campaign
". The name of the non-profit running AmpleHarvest.org is
"AmpleHarvest.org, Inc."
Please do not use the two word expression "Ample Harvest"
when referring to AmpleHarvest.org as it is not the correct name and is likely to confuse your readers/viewers/listeners.
AmpleHarvest.org Summary
"AmpleHarvest.org envisions an America where millions of gardeners eliminate malnutrition and hunger in their own community using only their backyard gardens"
The AmpleHarvest.org Campaign Vision Statement
The AmpleHarvest.org Campaign, founded by CNN Hero Gary Oppenheimer, is a nationwide effort that uses the Internet to diminish hunger, improve nutrition and help the environment in America by educating, encouraging and empowering millions of backyard gardeners to easily find a local food pantry eager for their excess garden bounty.
Currently there are 7,544 food pantries across all 50 states registered on AmpleHarvest.org, and more are signing up every day.
AmpleHarvest.org has received support and backing from Google Inc., the White House and the USDA, the National Council of Churches, The Clinton Foundation, Rotary Int'l, VFW, the National Gardening Association, Feeding America and its member food banks, Garden Writers of America as well as numerous faith organizations. It is available to food pantries and gardeners at no charge.
The Vision
AmpleHarvest.org envisions an America where millions of gardeners eliminate malnutrition and hunger in their own community.
The Mission
AmpleHarvest.org diminishes hunger in America by educating, encouraging and enabling gardeners to donate their excess harvest to the needy in their community instead of allowing it to rot in the garden. There are no costs to the food pantries or the gardeners for use of AmpleHarvest.org.
The Message
A number of America's problem could be diminished or even solved if everyone valued our resources, especially fresh food, as the treasure it really is. Our message to America is:
No Food Left Behind
The Impact
Currently, 7,544 food pantries across all 50 states are registered to receive a sustainable and recurring supply of freshly harvested, locally grown food (many for the first time) from area growers - for free!.
Millions of pantry clients can feed their family fresh food instead of food packaged with added salt and sugar thereby reducing the likelihood of diet related illness such as diabetes, high blood pressure and obesity.
In August 2010 (mid harvest) when AmpleHarvest.org was only 15 months old, a survey of then registered food pantries indicated that more than 3 million pounds of freshly harvested locally grown produce had been donated to food pantries.
Children, now at greater risk of obesity than ever before, are exposed to fresh produce with many learning for the first time that apples do not normally come pre-sliced in cellophane, peas come in pods and not cans and carrots are normally sweet and crunchy.
Gardeners across America enjoy the satisfaction of knowing that they are helping their neighbors in need by reaching into their backyard instead of their back pocket.
Families are introduced to new varieties of food they may have had no prior access to.
The carbon footprint of the pantries is reduced as locally sourced food (without packaging or cans trucked across the country that need to be disposed of) is used.
The community waste stream is reduced (taxes too!) as excess food is donated instead of being thrown away thereby also reducing methane emissions (a climate change gas with 20 times the impact of CO2) at trash dumps
All this occurs at no cost to the donor, the community or America.



Contact Information

Press Contact: Gary Oppenheimer
Telephone: AMPLE-6-9880 (267-536-9880)
Email: gary@AmpleHarvest.org

AmpleHarvest.org Home Page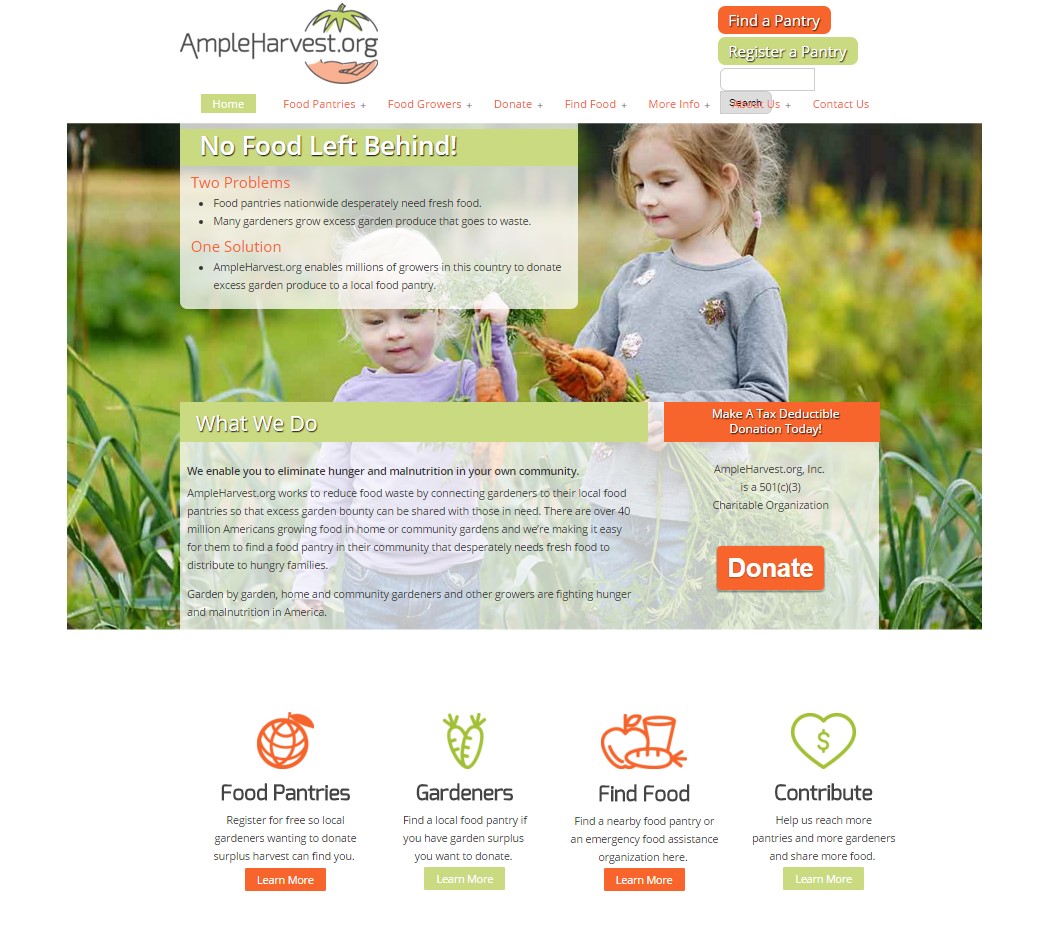 Press Releases

Press Releases


Oct 10, 2014
7,000th Food Pantry Joins AmpleHarvest.org
Jul 14, 2014
US Government's "Feds Feed Families" food drive partners with AmpleHarvest.org
Nov 26 2013
AmpleHarvest.org Founder / Executive Director Gary Oppenheimer Named 2013 Purpose Prize Fellow
Nov 15 2013
AmpleHarvest.org Announces Repeat of Last Year's "Centerpieces for Pantries" initiative
Oct 3 2013
AmpleHarvest.org To Be Recognized For Exceptional Service By Points of Light
Aug 19 2013
AmpleHarvest.org and Gardener's Supply Company Launch "Pledge-A-Veg" Photo Contest
Jun 18 2013
AmpleHarvest.org To Be Presented At International Philanthropy Conference in Athens Greece
Jun 3 2013
AmpleHarvest.org Signs 6,000th Food Pantry
Feb 12 2013
AmpleHarvest.org Receives $10,000 Grant From Broadway Cares/Equity Fights AIDS
Nov 14 2012
AmpleHarvest.org Announces Repeat of Last Year's "Centerpieces for Pantries" initiative
Oct 24 2012
AmpleHarvest.org Receives $50K Grant From Newman's Own Foundation


About AmpleHarvest.org



"The AmpleHarvest.org Campaign is the answer to the classic 'excess supply not reaching the demand' dilemma that has up to now resulted in vast amounts of food wasted in millions of gardens across America while the needy in the community remained malnourished and hungry"

Gary Oppenheimer, Nov 2010



Summary:
One out of six Americans (including a quarter of all kids under six ) does not have access to healthy fresh food at their food pantry. The AmpleHarvest.org Campaign is a national effort utilizing the Internet that enables 42 million Americans who grow food in home gardens to easily donate their excess harvest to one of 7,544 registered local food pantries spread across all 50 states.

Background:
When AmpleHarvest.org web site was first released in May of 2009, approximately 38 million Americans were listed as food insecure (defined as people who either do not have enough or are at real risk for not having enough food for their family).

According to US government statistics released only six months later, that number increased to nearly 49 (and now more than 50) million people, or one out of every six Americans; this despite the fact that America loses/wastes almost 100 billion pounds of food a year, or about one pound per person per day according to the New York Times.

To put this in perspective, the number food insecure people in America exceeds the populations of Alaska, Arkansas, Connecticut, Delaware, Hawaii, Iowa, Idaho, Kansas, Kentucky, Maine, Missouri, Montana, North Dakota, Nebraska, New Hampshire, New Mexico, Nevada, Oklahoma, Oregon, Rhode Island, South Dakota, Vermont and West Virginia - added together.

These people often rely on one of the estimated 33,000+ local food pantries in America to help meet the nutritional needs of their families. (Note.... in some parts of the country, a food pantry is referred to as a food shelf, food closet, food cupboard or food bank)

In most communities a food pantry is typically located in a house of worship or similar community building. Usually run by volunteers, these pantries are the final distribution point for food and household items (such as toiletries, diapers, paper goods, etc.) available to those most needing it. Although they are in nearly every community in the country, people in the area who do not need assistance from the food pantry rarely where it is located.

Food pantries receive the bulk of the food they distribute from periodic deliveries provided by large regional warehouse operations called food banks. The majority of these food banks are part of a nationwide network operated by Feeding America (www.feedingamerica.org).

Unlike your local supermarket whose daily food deliveries allows it to stock and sell fresh produce, the less frequent deliveries by food banks means that only canned fruit and vegetables can usually be provided to most food pantries.

Because canned vegetables are often processed with extra salt and fruit with a sugary syrup, either of which can contribute to future health problems (high weight or blood pressure, diabetes, etc), some writers have suggested that the availability of fresh produce at food pantries through AmpleHarvest.org may help to lower the future health care costs in America.

While over 50 million Americans are food insecure, more than 42 million Americans, according to the National Gardening Association, grow vegetables, fruit and herbs in their backyard, rooftop, patio and windowsill gardens.

A typical gardener plants their seeds or seedlings and then eagerly waits to begin the harvesting. As the growing season progresses, there will often be a far larger harvest than the gardener can use, preserve or give away to friends.

Historically, most gardeners have disposed of the excess produce, composted it, or left it to rot in their garden.

The AmpleHarvest.org Campaign web site provides these gardeners with the opportunity to instead easily find a local food pantry within a specified driving distance that is eager for their garden bounty.

A gardener overwhelmed with a bountiful harvest can go to the AmpleHarvest.org site to find pantry on the Find A Pantry page. They simply enter their home address or zip code and the number of miles they are willing to travel to a pantry.

AmpleHarvest.org displays a listing of food pantries, sorted by distance, along with a Google map.

Once the pantry has been selected, AmpleHarvest.org displays the desired day[s] of the week and time[s] of day when the pantry can accept donations. It will also show a photograph of the pantry (if provided) along with Google driving instructions from the gardener's location to the food pantry. Click here to see an example of what the gardener might see.

Gardeners who share their garden bounty with a food pantry are encouraged to email IShared@AmpleHarvest.org to let us know what and how much was donated.

Donating through AmpleHarvest.org is not limited just to backyard gardeners. Millions of Americans grow tomatoes, cucumbers, berries and other foods on their patio or rooftop. Even urban dwellers find that they can easily grow herbs (fresh chives, parsley, mint, and other herbs are particularly appreciated by pantry clients) in windowsill gardens. Lastly, many food pantries use AmpleHarvest.org to list those store bought items (canned foods, paper goods, toiletries, etc.) they are most in need of, making AmpleHarvest.org helpful to shoppers as well as gardeners.

AmpleHarvest.org is an opt-in directory - only those pantries that choose to participate or are registered by their managing food bank will appear. Since most food pantries find that the garden produce is quickly taken by their clients - often within hours of delivery by the gardeners, refrigerated storage at the pantry is rarely an issue. Food pantries, almost always struggling to meet an ever growing need for food assistance, greatly appreciate the community support AmpleHarvest.org enables them to receive.

AmpleHarvest.org continues to reach out to food pantries across the nation, encouraging them to take advantage of the generosity of the local gardeners. The outreach is done through the food banks, service and faith organizations as well as social networking such as Twitter and Facebook. Several emailable and faxable informational fliers for food pantries are available here. Anyone who knows of a food pantry in their community is strongly encouraged to forward the appropriate flier to the food pantry manager for their review.

At the same time, AmpleHarvest.org continues to encourage millions of gardeners across America to visit the site to find a local food pantry and to be generous with their donations when they harvest their gardens. The outreach to the gardeners is done on the Internet (thanks to a very generous grant from Google.com), Master Gardeners nationwide, and social networking such as Twitter and Facebook. Lastly, we encourage everyone to post a one page flier available here in their local garden shop, supermarket bulletin board or in any other conspicuous location to help inform those gardeners who have not yet heard about AmpleHarvest.org.

Although many Americans are themselves suffering from economic difficulties, AmpleHarvest.org enables gardeners to help diminish hunger in their community by reaching into their back yard instead of their back pocket. -------------------------------------------------


What makes this story different from others you have done in the past



"AmpleHarvest.org does not feed a hungry family one meal. Instead it diminishes hunger and malnutrition permanently and does it by using healthy food already available in the community."

Gary Oppenheimer, Oct 2011





While some other programs focus on working with farms and community gardens and gardeners.... and food banks, AmpleHarvest.org works predominantly with America's 42 million backyard gardeners and their neighborhood food pantries (there are an estimated 33,500 in the country). This is significantly different in that food pantries are local... food banks are regional. In Vermont for example, a gardener in the northern part of the state would have to drive 7 hours round trip to get to the only food bank in the state. AmpleHarvest.org would let him find one of the 142 local food pantries instead. Most people would not drive 7 hours to donate food... many will drive across town or to the next town however. As such, food that would have been left to rot in the garden becomes available to hungry people. In short, AmpleHarvest.org makes produce donation a large scale opportunity ... not just one for farmers and community gardens)



AmpleHarvest.org allows pantries to describe food bought items they need - thereby eliminating the issue of people donating items that are already on pantry shelves. This makes AmpleHarvest.org usable both by gardeners off season as well as non-gardeners.



AmpleHarvest.org provides the donor with personalized driving instruction from their home to the pantry (and allows the pantry to post a photo making it easier for the donor to find the pantry - see this pantry or this one for examples)



Another key distinction is that AmpleHarvest.org lets food pantries update their page as often as they need to... If too many of an item come in, they can ask that no more be delivered. They can also change delivery times as needed. In short, AmpleHarvest.org is a dynamic site... not just a static listing of names and addresses.



AmpleHarvest.org actually makes the American food bank system more efficient. Food drive donated food must be inspected and sorted by warehouse staff whose time is better spent moving large volumes of food around by fork lift. Because AmpleHarvest.org diverts small volumes of food directly to the local food pantry, a regional food bank's cost of operations is reduced.



AmpleHarvest.org also provides the gardeners with information on their own state's Cooperative Extension URL... enabling them to get information on being a better gardener, and hopefully, growing more food.



AmpleHarvest.org differs from gleaning programs across the country in that food donated by AmpleHarvest.org growers is freshly harvested and donated on a same day basis, while store gleaned food is often produce nearing the end of its sales/distribution life cycle. The fresher the food is, the healthier it is. Additionally, gleaning depends upon finding volunteers to help handle the food (typically to a regional food bank) while AmpleHarvest.org takes advantage of the much larger pool of backyard gardeners across the country.



Because food from gardeners delivered to pantries is on a same day basis, the pantry clients can get access to produce that is actually fresher than they could have bought in a store.



You may want to also note that excess produce, if thrown into the garbage, produces 1 lb. of methane (a global warming gas 20 times worse than CO2) for every 1lb of tossed food. The reduction in global warming emissions and solid waste disposal are two secondary benefits of garden produce going to pantries instead of garbage dumps.

Note.... AmpleHarvest.org founder Gary Oppenheimer is available for interviews by phone, Skype or video.


The Story Behind AmpleHarvest.org by Gary Oppenheimer AmpleHarvest.org Founder



"If we're going to have an ample harvest in our community garden, at the very least, it should be donated to the food pantries in town."

Gary Oppenheimer, Oct 2008



Shortly after I became the director of the West Milford Community Garden in late 2008, I learned that some of our garden plot holders -- like millions of backyard gardeners nationwide -- left large amounts of their garden produce unharvested when they grew more than they could possibly use.

Aware that hunger is a problem in our community, I suggested that we created a committee that would help to gather this extra food and deliver it to local food pantries. The local program was named Ample Harvest West Milford.

Food pantries however were hard to find, in large part because most operate without an Internet site or yellow page listing. Google for example listed the nearest food pantry as being in a town 25 miles away, even though our own town had several of them. And it turns out this same challenge was faced by backyard gardeners nationwide wishing to share their bounty.

To address this dilemma, I created AmpleHarvest.org , new supply side channel in our national food network that would educate, encourage and enable gardeners with extra produce to easily donate to a local food pantry. AmpleHarvest.org gives food pantries the opportunity to be registered in a central nationwide directory so that gardeners and other donors can share their fresh produce and, garden-by-garden, help diminish hunger in America.

Initially conceived of in March 2009, with the help of two volunteer web designers (one of whom is a former food pantry client), the AmpleHarvest.org site was created and tested starting in April 2009.

Seven weeks later on May 18, 2009, AmpleHarvest.org was rolled nationally.

AmpleHarvest.org received enthusiastic support and backing from Google.com, the USDA, Rotary International, VFW, numerous faith groups as well as many media outlets and food/hunger bloggers.

We reached out to food pantries across the country through social networking, food banks, Master Gardeners, faith organizations, and many other groups.

In August of 2009, the National Gardening Association partnered with AmpleHarvest.org to help inform its members about the campaign. On October 16, 2009 (World Food Day), only 150 days after its initial roll out, AmpleHarvest.org announced that the 1,000th food pantry ("Rosie's Place Groceries" in Boston, MA) had joined the campaign.

In October 2009, the Association of New Jersey Environmental Commissions gave AmpleHarvest.org its 2009 Environmental Achievement Award.

In December 2009, at the recommendation of United Way, AmpleHarvest.org started to provide online resources to help individuals who had come to AmpleHarvest.org in need of food assistance.

In May 2010, AmpleHarvest.org Founder Gary Oppenheimer was named "CNN Hero" on the Larry King Live show for his anti-hunger work in creating and promoting AmpleHarvest.org to food pantries and gardeners nationwide.

In August 2010, as part of its effort to diminish the environmental impact of food waste, AmpleHarvest.org was listed by the Environmental Protection Agency (EPA) as a food rescue resource.

In August 2010, as part of its effort to diminish the environmental impact of food waste, AmpleHarvest.org was listed by the Environmental Protection Agency (EPA) as a food rescue resource.

On Nov 10, 2010, AmpleHarvest.org Founder Gary Oppenheimer was named ""HuffPost's Greatest Person Of The Day"" by the Huffington Post for creating AmpleHarvest.org.

In the week leading up to Thanksgiving 2010, AmpleHarvest.org created a campaign to encourage people to replace the floral table arrangements on their Thanksgiving tables with one made of whole fruit instead, which would then be donated to a local food pantry the next day.

In 2011, AmpleHarvest.org was named winner of the Glynwood Harvest Wave of the Future Award, Gary was named winner of the 2011 Russ Berrie Award for Making a Difference as well a Huffington Post 2011 Game Changer. Currently, there are 7,544 food pantries across America already registered on AmpleHarvest.org. You can view a nationwide map of all registered food pantries by clicking here.

The AmpleHarvest.org Campaign, originally created as a program of Sustainable West Milford (New Jersey) was spawned off in April 2010 and became AmpleHarvest.org Inc. - a 501(c)(3) charitable organization (EIN #27-2433274).

Everyone involved in the original creation and support of AmpleHarvest.org has donated their time and talent. There are no costs to the food pantries or the gardeners for use of the site.

To promote its goal of enabling as many backyard gardeners as possible to donate excess garden produce to as many food pantries as possible, AmpleHarvest.org pursues two separate tracks simultaneously:

To encourage food pantries across America to join AmpleHarvest.org (it is free). Currently, there are 7,544 food pantries registered on the site (you can view a nationwide map of all registered food pantries by clicking here).
To inform the more than 42 million (from a study by the National Gardening Association, available by clicking here) Americans who grow vegetables, fruit and herbs, that they can donate their extra garden bounty to a local food pantry.

The original team that created AmpleHarvest.org donated their time and talent. The team included two web designers, a social networking expert, a PR specialist, a SEO (search engine optimization) expert and a Google Analytics expert. A number of other people have donated legal, non-profit management, food bank/pantry and marketing expertise and talent.

AmpleHarvest.org, Inc. operates as a non-profit organization registered in the State of New Jersey. There are no costs to the food pantries or the gardeners for use of the site.


Frequently Asked Questions

The AmpleHarvest.org FAQ page is divided into three sections - General Questions, Food Pantry Questions and Backyard Gardener Questions

It covers additional information not included on this page. Additional information is available at the AmpleHarvest.org food pantry advice page.

This 5 minute video shows you how a food pantry registers at AmpleHarvest.org and how a gardener would use AmpleHarvest.org to find a food pantry.



Comments and Feedback

AmpleHarvest.org has received a good deal of very positive feedback since it rolled out. A sample of these comments can be seen here.


Additional Resources on Founder Gary Oppenheimer

Gary Oppenheimer, a CNN Hero, World Food Prize nominee, lecturer and speaker (including a TED Talk), 2014 Yahoo! News/ABC News "Best Person", a Google Tech Talk, 2013 Encore Purpose Prize Fellow, Points of Light winner, Huffington Post's "Greatest Person of the Day" and " 2011 Game Changer", winner of the Russell Berrie Foundation's "Making A Difference" award, winner of the Glynwood 2011 "Wave of the Future" award, winner of the 2012 Elfenworks "In Harmony With Hope" award, Echoing Green semifinalist and founder of the AmpleHarvest.org Campaign now makes his home in the mountains of northern New Jersey after having lived on a boat on the Hudson River in Manhattan since 1978. He is also a Master Gardener, Rutgers Environmental Steward, former community garden director, Environmental Commissioner in northern New Jersey, an avid gardener, dancer and long distance cyclist.

After graduating from college with a degree in psychology, he promptly lost all interest in the field and instead became one of the early geeks in the personal computing arena (he soldered a computer together in 1976 - he still has it but is now afraid to now power it up) and designed a prototype email program for a mini-computer in 1977.

An early pioneer in the electronic mail industry, MCI Inc. asked Gary in 1985 to help them sell and support the then fledgling MCI Mail electronic mail service. Within a few years, he became their largest global sales agent (including producing what is believe to be the first "ezine" - published from 1985 to 1996) - while working from a home office located on the boat.

In the early 2000's after buying a home deep in the woods in a rural northern New Jersey and planting an orchard and garden, Gary realized he actually needed to learn how to grow things and became a Master Gardener. A year later, he completed the Rutgers Environmental Stewards program.

Over the next several years, he expanded his home gardens, became a lecturer, a town environmental commissioner, advocated for region wide watershed preservation and became the director of a community garden.

Aware of the increasing hunger problem in America and, in 2009, after seeing the amount of wasted food in the community garden as well as other gardens around the country, he created AmpleHarvest.org - a nationwide effort to enable America's 42 million home gardeners who grow food to be able to easily find a local food pantry eager for their excess garden bounty.

Named CNN Hero a year later, he was introduced on the Larry King Live show which was followed by a live interview with CNN anchor Ali Velshi.

He has appeared in numerous radio and TV interviews, has spoken at a global philanthropy conference in Athens Greece , Wharton's Social Responsibility conference, Temple University, Culticate Iowa, the Food Conference at UC Davis, Jewish Theological Seminary in New York City, the Brooklyn Food Conference, and many others.

Gary has also presented AmpleHarvest.org to USDA People's Garden Initiative Conference in Washington DC, hosted a webinar for 100,000 invited USDA employees on gardening and hunger and has been interviewed numerous time by both print and electronic (local and network) media outlets nationwide.

Because AmpleHarvest.org works closely with First Lady Michelle Obama's Let's Move! initiative to improve fresh food access at thousands of food pantries nationwide, he had the opportunity to meet the President and First Lady and she subsequently highlighted AmpleHarvest.org in a speech in early 2012.

Backed by the USDA, Google Inc. the National Gardening Association, the National Council of Churches and many faith and service organizations, AmpleHarvest.org is now helping 7,544 food pantries be accessible to local gardeners and other donors.

He also enjoys boating, hiking, farming (chickens for eggs and vegetables) and attacking challenges of all sorts. Gary is a firm believer in the notion that to do the impossible, you must first believe it isn't.

In addition to helping AmpleHarvest.org grow, Gary also does public speaking about hunger and AmpleHarvest.org, individuals making a difference in their community as well as a variety of environmental topics (contact info@AmpleHarvest.org for more speaker information).

"More Than me" (by Kelly Eldredge, published 2010), a book on "people reaching out to help others and in turn experiencing beautiful and unexpected changes of their own" has an entire chapter on Gary and his creation of AmpleHarvest.org.

Supporting the increasing interest younger people are placing on reducing food waste and related health issues, Gary has accepted a position on the Board of Visitors for the Campus Kitchen Project as well as acting as an advisor to the Food Recovery Network.



| | |
| --- | --- |
| High resolution photographs of Gary are available for use with print and electronic articles/stories about AmpleHarvest.org here. Any other use of these images is prohibited without prior written consent from AmpleHarvest.org, Inc. | |




Sample Blog Articles

Please read our proper use of name section before you publish a blog article. Thank you.


Graphics



Several AmpleHarvest.org graphics are available for use with your article. Please contact info@AmpleHarvest.org for questions about use of the AmpleHarvest.org graphics or logo.

Please see the Terms of Use page for information describing the protection of "AmpleHarvest.org" as well as the below graphcs.



AmpleHarvest.org widgets are available

here

.