Although approximately one out of six Americans experiences food insecurity today, there is a more than adequate amount of food available. Hunger in America can be solved.
According to both the Natural Resource Defense Council (NRDC) 2012 and 2017 reports and the US Department of Agriculture, we throw away a pound of food per person per day in this country, or well over 100 billion pounds of food per year.
Surprisingly, 11 billion pounds of garden produce becomes food waste annually. Many gardeners have plants that produce far more fruit and vegetables than they could possibly use, preserve or give away. It is not uncommon for tomato plants to bear 20 to 40 or more fruit each, and the typical gardener often grows numerous plants. Many other crops such as peppers, cucumbers, squash, citrus, apples, and peaches also produce abundant harvest.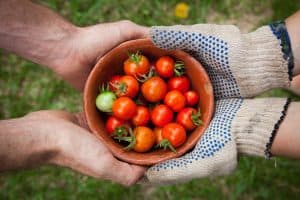 AmpleHarvest.org was created in order to end food waste and hunger in America. Our online search function enables backyard gardeners to share their fresh healthy food with local food pantries. A gardener's produce can be delivered to a food pantry within hours of harvesting, and may well be eaten by pantry clients soon thereafter. As such, many pantry clients find the AmpleHarvest.org produce is fresher than what they could have bought a the local supermarket.
Hunger in America can be fixed, and you can help!
If you belong to a house of worship or civic organization that houses a food pantry, please make the effort to contact them and let them know about AmpleHarvest.org. It is totally free to register.
If you know a backyard gardener blessed with the sun, soil, rain and luck to give you more produce than you and your friends or family can use, please consider sharing it with a neighborhood pantry.
If you are not familiar with a local food pantry and if you are not a gardener, you can still help by letting others know about AmpleHarvest.org. The ongoing success of AmpleHarvest.org remains dependent on people spreading the word via email, word of mouth, or talking about it at meetings they attend.
AmpleHarvest.org was created because there are well over 33,000 pantries in the United States, most of which are not well known in the community. Backyard gardeners can't share food if they don't know that a neighborhood food pantry even exists.
Your support of AmpleHarvest.org can diminish hunger in America, reduce global warming, improve the quality of food available to pantries and let neighbors in need know that their fellow Americans care about them. Donate today!