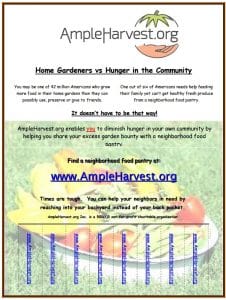 Millions of gardeners all across America grow more produce than they can actually use – losing the rest of waste. Many would be more than happy to share their bounty with a local food pantry if they knew they could.
To help connect the extra food in the gardens to the neighborhood food pantry requires that the gardener be informed about AmpleHarvest.org.  We do the rest.
Please print out this flier (if your printer can do two sided printing, it'll save paper) and take it to your local
garden shop
nursery
lawn and garden section of Walmart/Home Depot/Lowes/Sears etc.
hardware store
…and ask the manager to post it near the cashier or in another conspicuous location
You might also want to put up a copy on the public bulletin board in your
library
supermarket
house of worship
health club
Lastly, please encourage your friends and family across America to do the same.  Every gardener who learns about AmpleHarvest.org brings us one step closer to diminishing hunger in America.