Gardeners fight hunger
Share your extra food in New Jersey!
You're on the right track!
As home gardeners, you are already doing a wonderful thing when you grow your own food. You know that it is good for you, your family, and the environment. If you find yourself with a runaway zucchini plant or another bountiful crop that gives you more than you can eat, don't let it go to waste! Even a small donation to your local food pantry will help feed hungry families in your area.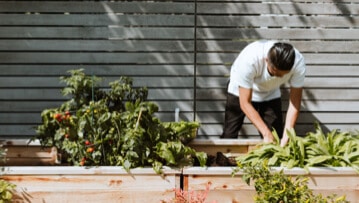 Testimonials
I used to feel silly just taking a handful of peppers to the pantry until I realized how much three large, fresh, local, organic peppers would cost at the grocery store and what a gift it truly was for a mom or dad who might not have enough money to buy them for their family. That made me want to share even if I felt like it was not enough.
Emily, home gardener
Take the pledge to stop hunger!
Yes! I will help people facing hunger in my community, and I agree to donate food from my garden this year.
How else can I help?
01

Share your produce.

Once you find a food pantry or food bank near you, it's time to donate your extra produce. Most food pantries have specific drop-off days and times so be sure to find out when they are available to receive donations. Please be sure to only donate food that is high-quality enough that you yourself would eat it. Donations need to be clean and of a suitable ripeness. Even small donations are welcome at most pantries.

Consider donating regularly to the pantry closest to you. Your contribution will go directly to the hungry people in your community. You will have the gratitude of your community and all of us here at AmpleHarvest.org. In fact, we would love to hear about your donations! Send an email to [email protected] and let us know how much produce you were able to share. You can also visit our Facebook page and post the information there too, or use hashtag #AmpleHarvest on your Instagram photos.

02

Help a pantry get listed.

Do you know of a pantry in your area that isn't listed? Does your area come up "blank" on our registry? You can help! Encourage pantries in your area to fill out the registration form to get listed.*

We created AmpleHarvest.org to help increase visibility for food pantries who may otherwise fly "under the radar" without their own website or means of advertisement. If you know of a pantry in your area, contact them to see if they will accept donations of fresh produce. Then you can direct them to AmpleHarvest.org so they can register and get found! Once they are registered, the next backyard gardener in your area looking to share their bounty will not experience the problems you did!

(*Please do not register a pantry without their knowledge or consent. It is important that a pantry register itself. Thank you!)
Join the millions of people across the country using AmpleHarvest.org to share their bounty with their neighbors in need
Find a Pantry