When I was in first grade, I told my classmates that I could grow grass (no – not that that kind – I was in first grade!) on a sponge. I have no clue what gave me that wild idea but I set out to prove the kids who snickered at me wrong. I brought in a pie tin, a pink sponge I borrowed from our kitchen, and some seed from the garage. I then put water in the tin, added a sponge sprinkled with seeds and then we left for Christmas vacation.
When we returned, we all saw the pink sponge … with green grass on it!
The snickering turned to looks of amazement, and I was thrilled.  Oh what a feeling!  I was right and they were wrong and I proved it in the simplest way possible – by showing them.
That was my introduction to gardening.  It was also my introduction to the idea that "they" are not always right – a valuable lesson for anyone to learn, especially a child.
Now decades later, most of my property is wooded – there is not much grass growing here so while I know I can grow it on a sponge, I have yet to prove that I can really grow it on dirt.  Maybe someday.
What I do grow is food. Not because I need to but because I like to.  I've got several raised beds plus one large 1,200 sq. foot veggie garden.  This year's plantings include corn, summer and winter squash, lettuce, beans, basil, tomatoes, eggplant, Swiss chard, cabbage, kale, broccoli, carrots, Aunt Mollies Ground Cherries (they are amazing!) and some other odds and ends plus the horse radish and dill that self sowed.
Like millions of other gardeners nationwide, what I also grow is too much food.
After a long winter, the foolish side of me plants too much thinking it'll grow faster – like repeatedly hitting the elevator button to speed its arrival.  But I don't tell people that is the reason why I plant so much. I instead tell them that in some years, certain things grow better than others.
This year, my cucumbers, peas and beans are grossly underperforming while the greens are hugely successful.  It's like your personal investments – you buy some bonds and some stocks hoping that the stronger performing investment will offset losses from the weaker ones.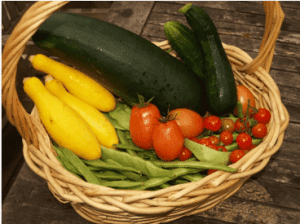 This is one day's harvest – and there is a lot more left in the garden.
Gardeners suffer from sudden success.  They plant, tend and wait.  And wait.  And wait.  Then all of sudden, the food starts coming … and it looks as though it'll never end.  In the past, I tried to give food away – an excellent way to learn that there are only so many cucumbers you can give to a friend and still have them call you a friend.   I eventually found a women's shelter in my town and gave them food for two years.  My extra food was not being wasted and some people who really needed it got it.  That felt good.
In 2009, I created AmpleHarvest.org to help millions of people like me feel good by doing good – getting their excess harvest to people in the community who really need it.  And it does feel good.
This past week, on my way to meetings with the USDA in Washington DC, I took some that extra food from my garden and visited Miriam's Kitchen – a wonderful "soup kitchen" where my good friend Chef John Murphy nourishes the people in the Washington DC area who desperately need the healthy food.   The White House kitchen garden is donates their excess harvest there too.
I have donated time and food to Miriam's Kitchen in the past and John has assisted me both when I briefed the House of Representatives about AmpleHarvest.org, and when the White House invited AmpleHarvest.org to exhibit on the National Mall during the National Day of Service.
The kale, basil, dill, cabbage and other greens I brought to with me had been harvested from my garden hours earlier.  I even included one REALLY BIG horse radish and introduced him to the idea that horse radish greens are also edible – even if they do have something of a bite to them when you eat it.
When I planned and planted my garden this year, I had no idea that we'd have such a wet or cool spring.  My eggplants where not happy, my tomatoes weren't either, but my greens were thrilled.
As I laid out all of the food I brought from my garden, I asked him how many people could be fed with what I brought.  "About 50 people" was the reply.
Oh What  A Feeling!