March 19, 2009. Not Your Typical Day
By Gary Oppenheimer
Two dates stand out. Today, March 19 and September 10.
Looking back seven years on my calendar to those two dates, I see "Community Garden Meeting" in September and "Spin Class" in March. I clearly remember going to the community garden meeting and I'm pretty sure I didn't go to the spin class – and not just because I found spin classes boring.
In late 2008, I was asked to take over an existing community garden in my community. I agreed and asked for a meeting with the existing community garden members on September 10, 2008.
While learning about their issues and concerns, one woman complained that as the past season wore on, more and more people left food unharvested in their plots. Some on vacation, some bored and certainly many, overwhelmed with the bounty that grew in the rich soil.
My off-the-cuff response "If we're going to have an ample harvest, the least we can do is get the excess food to those in town who most need it" evoked an enthusiastic agreement from everyone.
The gardeners formed a committee to organize the process for collecting and harvesting the excess food for the next season, and I was going to find a local food pantry to accept it. I thought I'd have the easy job. A few months later as spring was approaching, Google reported that the nearest one was 25 miles away in another town – even though I knew of several pantries that we closer. Turns out it wasn't as easy a job as I'd expected.
I saw problems:
It wasn't just me with excessively large harvests.
If I, the aging geek with relatively long history of computers could not find a nearby food pantry, how easily could anyone else?
On March 19, 2009, I woke up with an idea: Could I address these two issues on the Internet?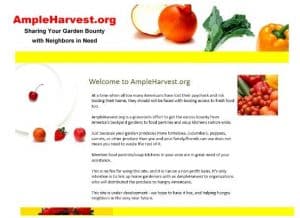 For the fun of it, I checked if AmpleHarvest.org was an available domain. It was so I bought it.
Over the next 4 hours, my idea crystalized in the form of a series of PowerPoint slides that ended up outlining a solution – a nationwide answer to food waste and hunger.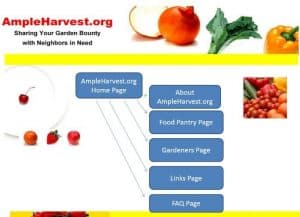 Slide by slide, each piece of what would become AmpleHarvest.org blossomed – like a flower opening up.
The message of "sharing your garden bounty with neighbors in need", the grower and pantry pages, the menu structure, and even the awareness that this could not only help the gardeners no longer waste food, but also that it could help hungry families find a food pantry – all came to light that morning.
I knew that turning my vision to a reality would take talent I didn't have – especially the web site creation. Two amazing volunteers stepped up to help build the site.   One did the data part that handled the food pantry information, the other did the front end that for years, was the look and feel of AmpleHarvest.org.   I did the content.
Essentially, if it was data, it was Josh, if it was pretty, it was Maureen, and if you could read it, it was me.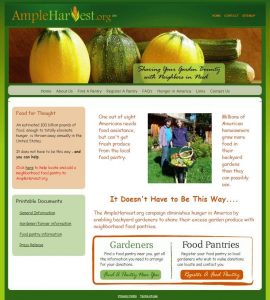 On May 18 2009, I started reaching out to food banks across America, asking them to encourage their food pantries to register on this fledgling new site. Four days later, I issued a press release announcing the launch. Two days later, Jonathan Bloom posted an article about AmpleHarvest.org on his amazing blog, Wasted Food, and we were off to the races.
June 1, Sasha Abramsky's article called "Breadline USA Part III" appeared in the Huffington Post – AmpleHarvest.org's first mass-media exposure and on World Food Day, October 15 2009, AmpleHarvest.org already had 1,000 food pantries lined up – waiting for gardeners to donate food.
March 19, 2009, I woke up with an idea. A few weeks later, I shared it with America.
No one had ever attempted to solve a hunger problem by moving information instead of moving food, and certainly, no one had ever tried to use technology to address the issue – food waste – that most people had not yet heard about.
AmpleHarvest.org started traveling down the road never before traveled, and in short order, thousands of food pantries and millions of gardeners came along too.
Today, March 19 2016, I'm looking at a nationwide program that's helping millions of gardeners learn that they can donate their excess bounty to more than 7,600 food pantries, I'm a looking at a small and very dedicated staff and board doing all they can help assure that the vision thrives and grows, and I'm looking at the scope of the opportunity that, thanks to Cisco Systems, has finally been quantified in the billions of pounds.
I'm also looking back with some amazement and certainly, an awful lot of gratitude to two volunteers, food bank partners, the government, bloggers, the media, foundations and funders and to my especially to those closest to me – all of whom have played a critical part of turning a crystalized idea into a gem of a reality.
March 19, 2009 started like most other days although I'm pretty sure I didn't go to the spin class that day.
I had more important things to do.