8,000 Pantries and Counting
by Gary Oppenheimer, Executive Director at AmpleHarvest.org
Lookup 8,000 in Wikipedia and you will learn that it is cube of 20, the sum of four consecutive integers cubed (113 + 123 + 133 + 143) and that there are 14 mountains more than 8,000 meters high.
Now we can add another 8,000 to the list:  The 8,000th  food pantry recently registered at AmpleHarvest.org, and like the 7,999 that preceded it, it did so because it very much wants to offer to its clients, the excess locally grown garden produce that up to now, was lost to waste in the community.
Gardeners nationwide grow a staggering amount of food – it's in the *billions* of pound per year, and a good deal of that, also in the billions of pounds per year, is lost to waste.  Why?  Because gardeners, like the rest of us, were always told that food drives would not accept fresh food (remember the "jars, cans boxes – no fresh food" mantra?) so they could not donate it.
Food drives still don't accept fresh food, but thanks to AmpleHarvest.org, more than 8,000 (and counting) food pantries in all 50 states do – eagerly.
The Long Beach Community Food Pantry in Long Beach, MS registered recently – the 8,000th  food pantry to do so.    It doesn't look like much from the outside but what it can now offer to hungry families – fresh food – makes it special.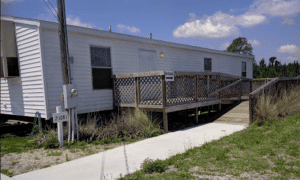 We were so excited for them that we reached out to ask them a few questions…
How did you hear about AmpleHarvest.org? One of our volunteers saw a segment on a news show; she thinks it was on CBS. It seemed like a win/win to us for sure!
What affected your decision to register on our site? We sometimes have fresh produce donated from contributors and thought it was a great idea to enable people to make charitable use of their excess garden product. Our pantry does not often have fresh fruit and vegetables, and because they are always received with some happiness, we wanted to sign up.
Tell us about your community (urban, rural, suburban) – how many people does your pantry typically serve? The communities we serve are mostly suburban, but include rural residents. In a typical year, we serve roughly 3000 families and about 6700 individuals. Of those, roughly, 1000 each year are over 60 and about one third are children under 18.
Prior to registering on AmpleHarvest.org, how often did your pantry receive fresh produce donations? It varies, but at a guess we receive 6 sizable donations of fresh produce annually. Locally grown satsumas come a couple of times per year, and we have gotten bananas from the nearby Chiquita facility at the State Harbor at Gulfport.
Why are fresh produce donations critical to your food pantry's operation? We can always use more fresh food, as much of what pantries receive for distribution is, as one would expect, non-perishable. The addition of fresh local produce enables us to provide our neighbors in need with a more nutritious and inclusive food package.
What do you think it would be like for you community if you could offer fresh produce to your clients every week?   And what do you think the clients would be saying when they saw it? There is no question that our customers would appreciate the addition of fresh fruit and vegetables to our offerings. Children in particular seem happy to receive whatever fruit we have! Many of our volunteers have anecdotes related to exclamations of delight from customers who are the recipients of fresh food.
This is repeated in thousands of food pantries in thousands of communities across America.   Local gardeners with bountiful gardens and big hearts sharing their bounty with a local food pantry so that nearby families can put something other than "jars, cans, boxes" on the dinner table.