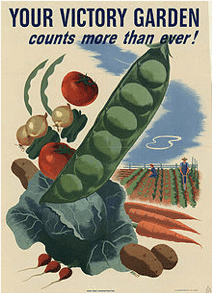 The nation, along with the rest of the world, is facing a monumental crisis.  And like similarly scary and challenging times in history, it will be addressed by the collective efforts of all people.
During the Civil War, President Lincoln encouraged people to plant "People's Gardens" to help feed the community.
During both world wars, American's who were not in the battle field and were not a "Rosie the Riveter" working in a factory helped by creating "Victory Gardens" to nourish themselves and their community. This was particularly important as the harvests supplemented people's food rations.  The USDA estimated that more than 20 million gardens produced the same amount of food as the commercial sector did.
Today, with an increasingly larger percentage of America's businesses closing shop for a while to help thwart the spread, an increasing percentage of people will be turning to their local food pantry to help put food on the table, stressing an already stressed emergency food supply system.
Studies have shown that gardeners like you grow enough surplus food to feed 28 million people, and many have the capacity and space to grow even more.
If you are a gardener, it's time to again step up.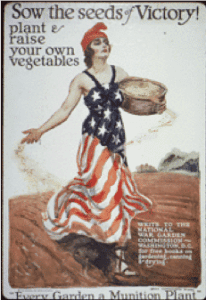 As you get your garden ready for the spring, think about planting more than you have in the past. Learn about companion planting to see which plants do best when grown together, about succession planting enabling you to plant a spring, summer and fall crop all in the same plot, and if you are limited in space, about vertical gardening and square foot gardening to make the most of the space available.
Not only is growing food for yourself good for your morale, diet and physical wellbeing (something about being out in the sun, creating/tilling a garden, caring for the seedlings and battling weeds will make you feel good), the surplus harvest that you can donate thanks to AmpleHarvest.org becomes critically important to the local food pantry clients (your neighbors) who themselves are struggling with health issues.
One critically important aspect of AmpleHarvest.org is that social distancing is integral to this solution. A gardener can grow, harvest and donate their bounty without putting them self or someone else at risk. Visit AmpleHarvest.org to learn more.
And if you are a gardener who has fallen on hard times and needs the help of a food program to put dinner on the table, know that while you are getting the help, your donated surplus harvest will also be helping your neighbors in need.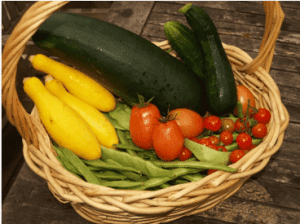 If you are new to gardening, your local extension office can connect you with a Master Gardener who can provide some guidance and informational support.  If you are short on cash, check if your local public library will be sponsoring a seed library, enabling you to get other gardener's excess seeds (and of course contribute your own excess seeds).
All through this crisis, AmpleHarvest.org's staff (all of whom have always worked from home offices) will continue to do what we've been doing for the past decade: helping more gardeners learn that they can donate their surplus bounty, and helping more food pantries nationwide become accessible to these gardeners.
The rest is up to you.