I have spent a majority of my life in school and my hubby is a teacher, so I can't really remember a time when Spring Break wasn't a part of our lives.  In fact, when I even think about it, I kind of want to throw my rock and roll fist in the air and yell "SPRING BREAK" at the top of my lungs.
When I was growing up in Florida, spring break meant ridiculous amounts of time at the beach, doing absolutely nothing, and pushing off any homework until the very last day.  As I've gotten older and more mature (and farther from the beach), spring break is a time to spend with family and friends and maybe take a short trip somewhere…that doesn't involve a bikini.
I've been amazed at how spring break has transformed for today's college kids as well.  Many of my husband's students are already talking about where they are going to go volunteer for the week. That's right, they want to go do something life- and world-changing during their break from classes.  They call it "Alternative Spring Break". I'm sure many are devising carpooling strategies to get to the beach, but an increasing number are headed to Guatemala, or New Orleans, or even to the dilapidated neighborhoods in their own towns to build a home, or read to kids or start a community garden.
Students from all over the US are actually coming to my town to get their hands dirty in Memphis's network of community gardens.  Executive Director of GrowMemphis, Chris Peterson, told me that 6 different colleges and universities are sending spring break volunteers to Memphis.  GrowMemphis helps neighborhoods, churches, schools, and communities establish and maintain community gardens in food-desert areas.  This spring break they'll have college kids from Bellarmine University, Southern Illinois University, Western New England University, Iowa, and Amherst.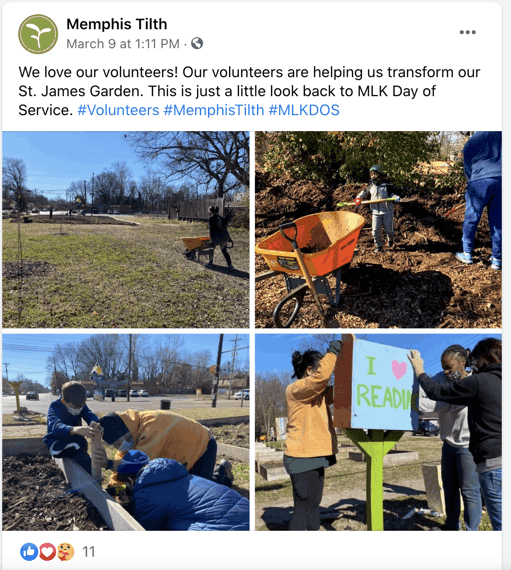 Peterson loves having help in the gardens, but it means more than that to him. He says, "I always look forward to hosting alternative spring break groups from around the country. It not only provides our gardeners with a much-needed source of quality workers at an important time of the year, but it also gives our staff an opportunity to better understand how students address food security as part of any number of fields: social science, public health, environmental science, and even from a faith perspective".
If you're inspired to spend spring break, or a weekend, or even a few minutes of your time addressing food insecurity, visit AmpleHarvest.org/local to get some ideas.
There are so many ways to give back during spring break (or anytime really).
If you're a student going to work in a community garden during spring break, share AmpleHarvest.org with the garden leaders. Let them know that there is a free, online tool to help them find local food pantries that are in desperate need of their extra garden bounty. Follow us on Instagram and tag your gardening pics with #AmpleHarvest so we can see what you're doing during spring break.
If you're a student who's volunteering at a local food pantry, help spread the word about AmpleHarvest.org.  You can print a flier from our website to share with food pantry coordinators to let them know that it's free to register on AmpleHarvest.org and by doing so they will be visible to area gardeners who can donate fresh, local produce.
And, last but not least, you can spread the word about AmpleHarvest.org on your social media sites. There are 40+ million gardeners in the US and most don't know that their extra harvest can feed hungry families. Like us on Facebook and Twitter and help us spread the word. Here are some sample messages that you can use:

I helped connect gardeners with food pantries so that excess produce doesn't go to waste. Visit AmpleHarvest.org to learn more!
1 in 5 children in the US are hungry. I'm volunteering to help change that with @AmpleHarvest.  Learn more at AmpleHarvest.org
Whatever you do, let us know what you're up to and share your photos with us on Facebook or Instagram.