I am not a farmer I just play one on TV. Okay, that's not even close to true. I WISH I was a farmer, but I'm not. I'm just a girl trying to grow food in my back yard. I brag like crazy about the things that actually grow, and when no one is looking I quietly pull out and compost the things that turn brown the moment I touch them. When the growing things outnumber the dying things I consider my garden successful.
I am a wannabe farmer and because of that when I actually DO meet a farmer, I am awestruck. That's one reason why I love my job so much. I get to meet real farmers all the time! Some of them have community gardens, some grow an amazing amount of food in their backyard gardens and others have large-scale, tractor-requiring fields in which they grow thousand of pounds of beautiful food.
One of these farmer-superheroes that have had the pleasure to know is Steven Miles. I met Steven and his wife in graduate school and we became fast friends. Steven and I worked on projects together, put many miles on our cars together, and even won a few awards for what we were doing. What we were doing, however, had nothing to do with farming. Little did I know that my friend and colleague would one day become a super amazing farmer who is feeding hungry people in Virginia.
I asked my old friend Steven some questions about how he got started and the incredible work he's doing now at Shalom Farms. Here's what he had to say.
Emily: When and how did you get interested in farming?
Steven: I grew up working in nurseries and greenhouses so I've always had a love for growing plants and working outdoors, but I had never seriously considered sustainable agriculture as a career until I visited an organic farm during my final year of graduate school. I had been thinking a lot about the importance of "good work," about my own desire to invest myself in a way of life that was healthy physically, mentally, and spiritually. I can remember walking through the rows of freshly cultivated carrots and thinking about how the work of farming seemed to incorporate all of things that interested me. After graduating from Vanderbilt Divinity School in December of 2007, I immediately started an internship on a small farm in Nashville. On the morning of my first day, I was shaping beds in the high tunnel, and preparing the soil for a spring planting of kale and collards. With the sun warm on my face and calluses already beginning to form on my hands I knew, without a doubt, that growing food was what I wanted do. After moving back to Richmond, I began volunteering at Shalom Farms and was hired later that year as the farm manager.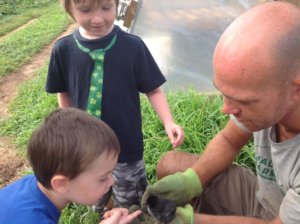 Emily: What is Shalom Farms?
Steven: Shalom Farms is an organic farm with the overarching mission of improving food security in the city of Richmond, Virginia. We focus particularly on low-income urban neighborhoods, providing fresh produce to those in need and offering opportunities for education about diet, health, and gardening. We are a program of the United Methodist Urban Ministries of Richmond, and one of our goals as an organization is to offer a mission opportunity for Methodist and other local churches. We have a lot of groups come out to the farm to help out with everything from transplanting to harvesting. We are totally dependent on the help of volunteers to get all the work done on the farm and to implement our programming in the city. Without the support of the many volunteers that come out to the farm every year, we could never accomplish all that we do.
Emily: Where is Shalom Farms and what are you growing?
Steven: We are currently growing fruits and vegetables on 6 acres in rural Goochland county (about 30 miles west of Richmond) on property owned by Westview on the James, a Methodist camp and retreat center. We are not certified organic, but we use organic methods, and we're currently considering the possibility of becoming Certified Naturally Grown. We focus on caring for the soil through trying to create a healthy environment for the microbial life (bacteria, fungi, protozoa, etc.) to thrive. We utilize standard organic practices such as of composting, straw mulching, and cover-cropping. We don't use any synthetic fertilizers, fungicides, or pesticides. We have chosen what we grow based on conversations with neighborhood residents. We want to make sure that we're growing food that people will eat so we don't grow anything too exotic, just the basics: cucumbers, squash, zucchini, kale, collards, watermelon, melons, broccoli, cabbage, tomatoes, peppers, onions, turnips, beets, sweet potatoes, potatoes, lettuce, and carrots. We harvested over 35,000 lbs last season and we're on target to harvest about 70,000 lbs this season. We also have a 1/2 acre blackberry and raspberry orchard and a small-scale egg production operation with 20 chickens. An Eagle scout just built us another chicken coop so we're very excited about getting another 20 or 30 chickens!
Emily: Where does the food go exactly?
Steven: Over half of the vegetables that we grow are sent to the Central Virginia Food Bank. They use it for Meals on Wheels, Kid's Café, and other programs. The remaining produce is either used in our own programming or delivered to our partner organizations in neighborhoods in the East end and South side of Richmond. Our partners in the city use the produce in a variety of ways: after school tutoring programs, cooking classes, food pantries, and meal programs. In addition, we have worked with several organizations in the city to develop youth-run farm stands in the city selling Shalom Farms produce at a very affordable rate. These markets are run by neighborhood children who also participate in workshops about a variety of topics related to healthy food. We've also started a vegetable prescription program that involves working with clinicians to determine health needs of neighborhood residents and providing vegetables to help improve the health of participants.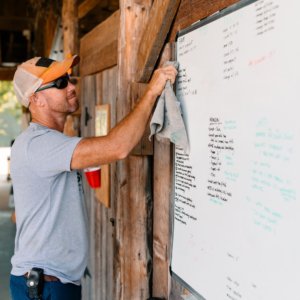 Emily: What are hopes for future of the program?
Steven: We're hoping to be able to start an urban farm in one of the neighborhoods we serve in the near future. We'd also like to be able to expand our programming into more inner-city communities. For example, instead of just having the vegetable prescription program in Creighton Court, we'd like to see it in all of the government-subsidized housing neighborhoods in Richmond. Also, hoping to get some sheep for the farm!
Emily: What inspires you to grow and donate?
Steven: I feel very fortunate to have the opportunity not only to farm but also to be able to farm for people in need. There is a quote from Eric Gill that I really like that says, "Every man is called to give love to the work of his hands. Every man is called to be an artist." Every woman too, right? Anyway, about this quote, Wendell Berry argues that the small farm is one of the last places where we can genuinely answer that call to be an artist, one of the last places where we can truly learn to give love to the work of our hands. I agree and I'm very grateful to have the opportunity to share that love with others.
Thank you Steven for all that you do. I'm honored to have known and worked with you in the past, and you can be sure that I admire you even more now that you're a REAL farmer!