Are you a registered food pantry on AmpleHarvest.org? Looking for ways to increase your fresh produce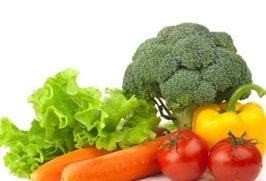 donations? Well, you've come to the right place! Here are some ways you can outreach to gardeners and growers throughout your community.
1. Let's start with garden centers and nurseries. When the growing season is just beginning, these places are hot-spots for local gardeners and you'll catch them at the perfect time – when they are still planning and dreaming about what they will grow in their gardens. They may even pick up a few extra plants so they can specifically donate the extras from them to you! Here's a flier you can print and take to your local garden centers: www.AmpleHarvest.org/gardenshop. Just ask that they hang it in a place that gets traffic so folks can learn about AmpleHarvest.org and how they can help you this growing season! This flier would also be great placed on a grocery store bulletin board, near community gardens, at farmer's markets and shared with houses of worship in your community.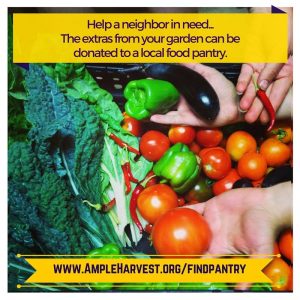 2. If you are on Facebook, Twitter or other popular social media sites – let your followers know you are registered on AmpleHarvest.org and are ready to accept fresh produce donations from gardeners. Here's a sample social media post, as well as, a photo you can share:
Did you know we are a registered food pantry on AmpleHarvest.org? AmpleHarvest.org connects gardeners who have produce to share with local food pantries. Please let your gardening friends know that we would gladly accept their fresh produce donations and that any amount will help nourish our neighbors in need.
And then ask your followers to share information on their social media sites.
3. Send a press announcement to your local newspapers, radio and TV stations announcing your participation in AmpleHarvest.org. A sample version is available for your use at: www.AmpleHarvest.org/pantryannouncement. Download the document, alter any text you wish and then send it out to nearby media. We sure would appreciate receiving a copy too (email it to [email protected]).  Also, ask a local reporter to do a story about your pantry being registered on AmpleHarvest.org. Tell the reporter they can find all the information they'll need at www.AmpleHarvest.org/press.
4. If your food pantry has a blog or newsletter or is possibly affiliated with a house or worship that has one, publish an article talking about your food pantry and your desire for fresh produce. A sample article is available for your use at www.AmpleHarvest.org/blogarticle.
We hope that the resources provided here will help you connect with more gardeners looking to share their abundance with you and we would love to hear about any donations you receive! Please take a photograph (or even video) when you receive donations of locally grown produce and send it to [email protected]. We'll post it on our social media sites, as well as, our web site and we'll include the name and location of your food pantry if you like – it'll be free publicity for your pantry!
Lastly, once gardeners know about AmpleHarvest.org and where to find your food pantry, you'll be able to build a relationship with them and they will be more inclined to donate fresh produce from their garden to you year after year!
If you're a registered food pantry and have registration questions, feel free to contact Leanne Mazurick, Food Pantry Outreach Coordinator at [email protected]
Interested in becoming a registered food pantry on AmpleHarvest.org? Visit www.AmpleHarvest.org/register to register for free and join our network of more than 7,700 food pantries already up on our site!