Last week was awesome.
I've worked for AmpleHarvest.org for almost three years and I've never actually met any of my colleagues in person, until now. Last week I got to meet our Founder and Executive Director, Gary Oppenheimer IN REAL LIFE! It's definitely strange to have known and worked with someone for so long and never have been able to shake their hand or hug their neck. That's the cool thing about AmpleHarvest.org, though. This is a virtual organization and our few staff members work remotely from our home offices. We don't have to be in the same room to work towards the same goals of connecting gardeners with local food pantries. But BOY does it feel good to get together after all these years.
Gary and I met in Council Bluffs, Iowa at the 2015 International Master Gardeners Conference, which was fantastic. About 750 Extension Master Gardeners from across the globe gathered to learn, share, explore and teach about all things horticulture. Almost every gardener I met told me that in his or her hometown they are growing food and sharing it with those in need. They were excited about AmpleHarvest.org and are going back to spread the word among their gardener friends. Several pulled up AmpleHarvest.org/findpantry on their phones to see if there were any food pantries near them, and were surprised to find so many!  Where there weren't any close by they promised to go home and encourage pantries to register.
After the conference was over, Gary and I gathered up some left over apples and oranges from lunch, and the edible pumpkins and squash from the table decorations and filled our rental car trunk. We found some food pantries on AmpleHarvest.org and donated the food so it wouldn't go to waste.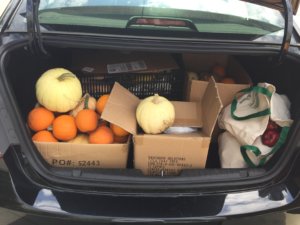 We also made a stop at the Food Bank for the Heartland to take a tour. This was a first for me. I had never been to a food bank. It was impressive. They had a large group of volunteers there that day, sorting and packing food for distribution. We walked around the warehouse and even into the giant freezer (brrrr!). Food banks run massive operations to get food to food pantries in dozens of counties, and this particular food bank distributes food in two states!
So yeah, last week was awesome. I'm exhausted from all the travel, but my heart is full!