Donors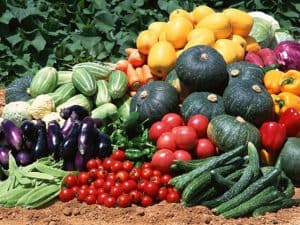 Donate your Food!
The idea that hunger only afflicts a handful of unfortunates that live in a bad part of town has proven to be a dangerous myth—an excuse for inaction, or worse, another example of blame-the-victim mentality. The truth is, one in six Americans—including one in four children—faces hunger issues on a daily basis.
AmpleHarvest.org, a 501(c)(3) established in 2009 and incorporated a year later, enables farmers, home gardeners, school gardening groups and even inspired beginners to help take a bite out of food insecurity by donating their fresh produce to a local food pantry. Instead of fobbing off surplus squash on sullen co-workers and relatives (who probably won't use it, anyway, we checked) growers can direct their bounty to the people in their community who really need it.
No Food Left Behind (Good Reasons to Donate)
The essence of AmpleHarvest.org's "No Food Left Behind" educational campaign is simple: backyard growers should enable nearby food pantries or food banks to provide nutritious produce to the nation's hungry, rather than throwing the "surplus" away or letting it rot.
Over 8,229 food pantries across all 50 states are registered to receive a sustainable and recurring supply of freshly harvested, locally grown food from area growers—absolutely free! As a result, millions of pantry clients can feed their families fresh food instead of products packaged with added salt, sugar, and corn syrup, thereby reducing the likelihood of diet-related illness such as diabetes, high blood pressure and obesity.
Children are at a greater risk of obesity than ever before, so exposing them to fresh produce pays healthy dividends. Many learn for the first time that apples do not come pre-sliced in cellophane, peas come in pods and not cans, and carrots are a sweet and crunchy snack. Better yet, families are introduced to new varieties of food previously unavailable to them.
The carbon footprint of the food pantries is greatly diminished as locally sourced food—without packaging or cans trucked across the country that need to be disposed of—is delivered to hungry people within that community.
Find a Food Pantry
AmpleHarvest.org's mission is to make food pantries easier to find and thus better equipped to receive bigger and better donations of fresh produce. By web-based platforms and media we're striving to connect 40,000,000 backyard growers to 33,500 food pantries across the country, thereby facilitating the delivery of fresh, surplus produce to 50,000,000 hungry and/or malnourished Americans.
We currently have 8,229 registered food pantries in our network across the country. To find one near you, simply enter your zip code and click on a pantry to learn more about their mission, hours of operation and when and how much fresh produce they can receive. Give them a call and make a new friend! Most pantries will enthusiastically answer any and all questions—especially those pertaining to donations!
Once you find a food pantry or food bank near you, it's best to inquire about specific drop-off days and times to ensure the freshest donations possible. Please only donate food that is of sufficient quality for your own table. Donations should be relatively clean, blemish-free and of a suitable ripeness. Just have a few tomatoes? Even small donations are welcome at most pantries.
Not a Grower? Not a Problem
Not everyone was born with a green thumb or the temperament to tend a garden. Just because you didn't grow it yourself, there's no reason why you can't buy up a passel of fruit and veggies at the store or local farmer's market and donate it. Give the food pantry a call and find out what items are currently most needed and you'll feel like a real action hero arriving in the nick of time to save the day!
We urge everyone—whether you grow food or buy it at the store— to donate regularly to a pantry near you. Your contribution will have a positive impact on the hungry people in your community. You'll gain the gratitude of friends and neighbors, as well as all of us here at AmpleHarvest.org. We'd also love to hear about your donation stories! Send an email to [email protected] and let us know how much produce you were able to share. You can also visit us on Facebook and share your story there.